How COVID Has Changed Red Carpet Fashion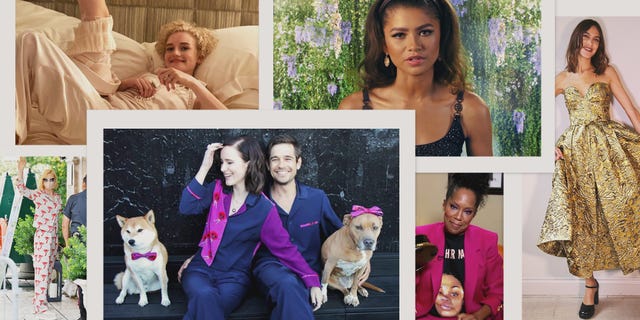 Getty Images; Chung and Zendaya courtesy of Eco AgeInstagram
Style Points is a weekly column about how fashion intersects with the wider world.
Some of the most talked-about red carpet looks of recent months bear little resemblance to what we might have seen in the pre-lockdown days. There was Regina King making a powerful statement by wearing a Breonna Taylor T-shirt to accept her Emmy for Best Actress from her couch. Julia Garner and Rachel Brosnahan wearing pajamas (albeit very luxe ones) to the virtual Emmys. Even the landscape looks different—the usual sea of black-clad publicists is replaced by a few close friends and family members sprawled in the living room.
This content is imported from Instagram. You may be able to find the same content in another format, or you may be able to find more information, at their web site.
Even though fashion, in all its forms, is decidedly more casual right now, that doesn't mean that red carpet attire has become synonymous with loungewear—even though much of the action is taking place on the couch. What's happening instead is a shift towards what Lorenzo Marquez of Tom and Lorenzo calls "low-key elegance." Co-creator Tom Fitzgerald concurs. "Right now, the general tone of celebrity style seems to be hovering around 'dressy casual.' The kind of looks a star might wear to make a talk show appearance rather than the kinds of looks they'd wear on a red carpet," he says. "Celebrities like to pretend that promotional work like red carpets and public appearances are a pain, but most stars don't become stars without a healthy need for attention now and then. There was no way they were all going to stay home in their sweats and yoga pants for most of the year."
But the line between relatable and glamorous is a tricky one to walk, particularly right now. When much of your audience is experiencing mass unemployment and struggling with grief and economic pain, how do you dress to impress without alienating them?
One way of squaring that circle is to recycle your greatest hits. At the Green Carpet Fashion Awards, where the focus is on sustainability, vintage looks dominated the virtual red carpet. Zendaya was in archival Versace from 1996 (which also happens to be the year she was born), while Alexa Chung re-wore a Prada dress she'd previously been seen in in 2016. At the Venice Film Festival last month, Cate Blanchett repeated pieces she'd worn to prior high-profile events.
As distinctions between fashion seasons have flattened along with time in general, that approach feels apt. "I do think that as a lot of us have been stuck at home, some people have had that moment of thinking, 'wow, why do I have all this STUFF when I am only wearing the same six things?'" says Jessica Morgan of Go Fug Yourself. Marquez has observed "a heightened appreciation for less showy looks and a sense of thriftiness or sustainability right now. There's still value in stars sending messages through their fashion, and at this time, the message the public seems to appreciate most is 'We're all in this together.' I think people want to see stars in fashion, but they don't necessarily want to see the kind of high-glamour couture looks and diamonds you might find at a world premiere red carpet or industry awards show."
But, notes Fitzgerald, "the fashion industry—and by extension, the stylist industry—doesn't survive on promoting already existing pieces. Stars remain at the forefront of the public's attention by constantly serving up some reason for the public to look at them. Fashion magazines and web sites like ours can feature a star wearing something she wore before and make a point of it, but we can tell you from experience that the fashion-watching public gets far more interested when a star wears something new."
Others have leaned into fashion as a form of escapism from an uncertain and painful reality. Knock-it-out-of-the-park glamorous moments, like Zendaya in Armani Privé and Regina King in Schiaparelli at the Emmys, have been met with excitement on the part of the fashion-watching public. In some cases, they even benefited from the lack of real-world context. Catherine Kallon, the founder and editor of Red Carpet Fashion Awards, notes that King's gown "sat well in the alternative reality that is Instagram, where people are often thought to be an exaggerated version of themselves."
This content is imported from Instagram. You may be able to find the same content in another format, or you may be able to find more information, at their web site.
"People, for the most part, are not punting on pandemic fashion," says Heather Cocks of Go Fug Yourself, "and I think it's because they realize it's okay to want this. It's okay to need this. We all, as a world, still need beauty and fun and art and joy. It doesn't discount the horrors of this time in history for us all to take a second and treat ourselves, even if we're doing it as voyeurs from our couches."
While small moments of glamour are providing us joy and escape right now, all the red-carpet critics I spoke to agreed that fashion will not be stuck in this mode forever. Kallon thinks that while we might see "a more muted approach to the upcoming awards season," and perhaps even some kind of thematic element à la the all-black dress code at the 2018 Golden Globes. "But hopefully by the time we get to May 2021, with the Met Gala and Cannes Film Festival, the red carpet will be in full flow," she says, including plenty of "gowns which make the hairs on the back of your neck stand on end."
This content is imported from Instagram. You may be able to find the same content in another format, or you may be able to find more information, at their web site.
Fitzgerald draws a comparison with the sartorially exuberant Roaring 20's, which immediately followed the Spanish flu pandemic. "Styles change and the future looks rocky," he says, "but there has never really been a time in the last hundred years when the celebrity-watching public wanted the stars to stop looking like stars. We'll be back to high red carpet style by this time next year."
Cocks agrees. "I do not think we are headed for a new era of asceticism. If and when red carpet events resume the way they once were, I think people are going to blow it OUT, and I cannot wait."

This content is created and maintained by a third party, and imported onto this page to help users provide their email addresses. You may be able to find more information about this and similar content at piano.io